LinkedIn works like a real search engine: just as keywords and SEO help improve ranking and traffic to a web page, LinkedIn SEO allows you to increase the visibility of your profile in order to stand out among the tide of competitors and, in this way, stand out. In this article, you will discover 10 tips to get better positioning on LinkedIn thanks to SEO.
By now we are all familiar with LinkedIn, the professional social network useful both for workers looking for a (new) job and for employers looking for new talents or new customers. According to a Statista forecast, Italian users using LinkedIn will reach 15.68 million in 2025. Worldwide, the number will even exceed one billion.
That said, it goes without saying how competitive the job market is and how easy it is for your profile to disappear among thousands of other profiles.
But this is where LinkedIn SEO comes into play: SEO optimization of your profile helps to increase its visibility and traffic to your professional profile and, consequently, the possibility of being contacted.
Basically, this optimization works exactly like On-Page SEO on Google. By using specific keywords within your profile, you can appear at the top of the results, both on the platform and on the search engine.
💡 The prerogative for LinkedIn SEO optimization is that your profile is 100% complete (as required by the platform). It is advisable not to start before completing it.
How to find the right keywords for LinkedIn SEO
Within our recommendations, we will often talk about the importance of keywords. Choosing the correct keywords for LinkedIn is important because the search is done through specific keywords linked to the profiles that a professional or recruiter wants to find.
You can therefore increase the likelihood that the profile they will see will be yours by researching and then including those keywords that most belong to you.
You can find the right keywords for LinkedIn directly on the platform without the need to pay for any tools. First of all, ask yourself "why should my profile be found? What information might my visitors be interested in? What do they expect to find?". So, proceed like this:
type in the LinkedIn search bar a word or two that we have to do with your sector, for example, "SEO specialist"
Click on "See all results"
select "People" to see the keyword used by people who have similar professionalism to yours, or "Job offers" to see which is the most sought after by employers
select the location to narrow the search results to the country of your interest
At this point, you will see the number of results (i.e. search volume) corresponding to the keywords entered. Compare with a couple of similar keywords, using the first test example "SEO expert" and "SEO specialist"
SEO specialist: about 8,700 profile results and 244 job offers
SEO expert: about 5,800 profile results and 244 job offers
SEO specialist: around 1,500 profile results and 48 job offers
Once you have found the keyword (s) that best suit your profession or your needs, you can use a mix, ranging from the shortest (up to two words, such as " SEO specialist ") to long tail keywords (from three words up, as "SEO specialist Milan" or "SEO specialist since 2015" ).
❕ The more often the keywords appear on your profile, the easier it will be to gain exposure. But be careful, exaggerating can lead to implementing a counterproductive strategy similar to the practice of keyword stuffing, a Black Hat SEO technique.
10 LinkedIn SEO tips
Once you've found the right keywords and integrated them into your profile, it's time to move on to SEO optimization. Below we see 10 tips that will improve the visibility of your profile.
1. Fill in your profile details
First of all, you need to make sure that your profile data is complete and up-to-date. Make sure that:
the location is entered (less relevant if you want to work in smart working, more important for employers who manage physical stores in search of talent)
the role you currently hold or would like to be included in the headline: "Inbound marketing expert"
your profile URL is optimized
The perfect URL on LinkedIn includes "name-surname-keyword (s)"
Access the profile from the desktop -> Click on "Edit public profile and URL" at the top right:
💡 Did you know that LinkedIn gives you the option to enter a nickname or nickname? This can come in handy if you have a stage name that you use, for example, on your blog or YouTube channel.
Check out: How to Research YouTube Keywords for Beginners
2. Use keywords in the headline as well
The header is the business card of your profile. Re-enter the most important keywords, which should ideally be the first words of the headline.
💡 If you don't have a job, write " Topic enthusiast looking for the next adventure" instead of "unemployed". The same advice applies to those who are still beginners or are in the training camp.
3. Optimize your profile summary
The summary is one of the first things your profile visitors will read. Here you can talk about yourself, your duties, and what you are capable of: then you have the space (2,000 characters) and the possibility to explain why they should contact you.
Think about the goals you want to achieve with your profile and enter the most important keywords, which will have to match those included in the profile headline (your job and skills).
💡 Have you ever heard of the "reverse pyramid marketing" principle? Structure your summary exactly like a pyramid, that is, immediately give all the most important and interesting information, and gradually expand the discussion. In fact, of the 2000 characters available, only 200 characters will be visible immediately.
4. Enter the keywords in the name of the images
Ideally, the name of the profile photo and the cover photo should contain keywords that are important to your profession. This way you can increase your chances of appearing in Google's image search results.
Recommended reading: What is a Web Developer? Understanding, Types, and Skills Required
5. Have competencies and skills confirmed
Remember that the skills you add must also be important keywords for your job profile. You can enter up to 50 but the important thing is that those already included in the initial headline and some sub-categories of these appear.
And remember to ask friends, colleagues, employers, or clients to confirm them, because the number of endorsements of skills the LinkedIn algorithm will also take into account when determining the positioning of your profile.
Furthermore, similar to the role of reviews in online shopping, confirmations confer a social proof that can lead a visitor to prefer your profile over that of others.
6. Get reports
Likewise, referrals boost trust and improve LinkedIn SEO.
You can ask those who are willing to leave you one which keywords you would like them to use in their text.
7. Be active
As with any other social network, if you want to increase the visibility of your profile, your presence must be active. Remember that a good SEO strategy is always based on content creation: post content (articles, videos, infographics, reflections born from your experience) that may be relevant to other users.
This helps you not only increase the visibility of your LinkedIn profile but also make it more interesting. Remember that the two go hand in hand.
💡 If you publish an article written by yourself or coming from your website, the LinkedIn algorithm will take this into account and may hinder the visibility of your post. To avoid this problem, insert the link to the article within the first comment and communicate it to your readers in the teaser text of your post.
Many do not know that interacting (putting a reaction or comment) with a post is much better than sharing it. Just like Google doesn't like duplicate content, LinkedIn's algorithm devalues ​​shared content as duplicate content and lowers your profile rankings.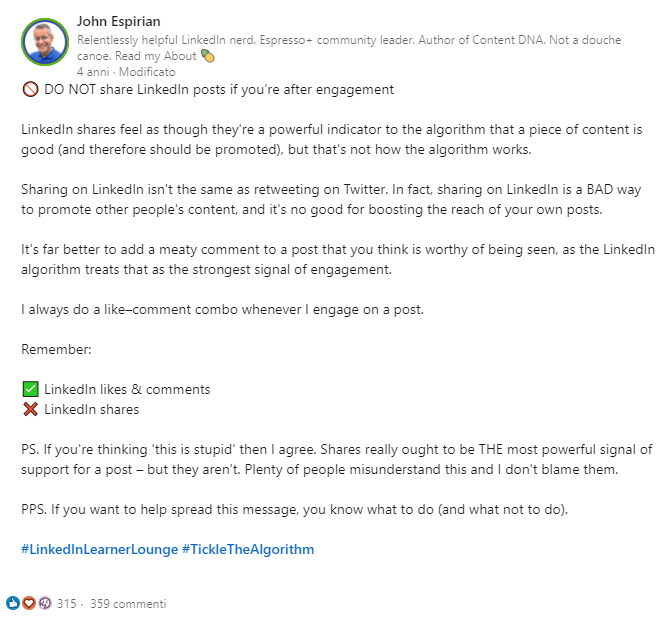 Source: https://www.linkedin.com/in/johnespirian/
8. Become part of a community
You can improve your visibility in a specific and relevant community by joining groups and interacting with other users within it. To join a new group proceed as follows:
Click on "Work" at the top right> "Groups"> "Discover" (or "Create group", if you want to create a new one yourself)
use the search bar to search for keywords or the filters to narrow down your search options.
9. Target your network
By connecting directly to the previous advice, the posts you publish will provide added value exclusively (or mainly) to users who share your interests. For this reason, it is advisable to target your network, that is to select those contacts belonging to your niche and not give in to the temptation to add any acquaintance.
While this strategy makes sense on Facebook, it is less effective on LinkedIn and can even frustrate your efforts.
10. Send backlinks to your LinkedIn profile
Backlinks are a positive sign for search engines and therefore improve SEO. For this reason, it is advisable to place the link to your LinkedIn profile on your website (if you have one) or on your other social media channels.
Conclusion: where to put keywords on the LinkedIn profile?
To recap, LinkedIn SEO helps to increase the visibility of your profile and the possibility of being contacted. The key element of SEO optimization on LinkedIn, keywords, must be researched and integrated within the profile, in particular:
in the header
in the summary
in descriptions of past (and present) work experiences
in the skills and training section
in the profile URL
Start increasing the chance that the right people will find your profile now thanks to LinkedIn SEO!