Many websites and blog owners are chasing top rankings in Google search results to increase the number of visitors. You can achieve this by applying various SEO techniques.
That's why this article will guide you through implementing SEO techniques based on the latest Google algorithm updates. Because SEO techniques are always changing following Google algorithm updates.
Then, what are the SEO techniques that you can practice on your website? Let's read this article to the end!
15 Best SEO Techniques to Increase Website Ranking and Traffic
Out there, there are so many SEO techniques that you can try. So many, maybe you are confused about which SEO technique to apply.
Therefore, we have sorted out the 15 best SEO techniques for you to implement. Here is the list:
Install Plugin Yoast SEO
Add Website in Google Search Console
Create a Sitemap
Install Google Analytics
Increase Website Speed
Riset Keyword
Targetkan Long Tail Keyword
Create Complete and Interesting Content
Image Optimization
Maximize Internal Link
Guest Post
Post on Medium
Check for Error Links
Meta Optimization Tags
Update Old Content
Let's discuss it one by one!
1. Install Plugin Yoast SEO
Does your website use WordPress? If so, you can start your SEO optimization suite by installing the Yoast SEO plugin.
This plugin provides various features to improve the SEO quality of your website, for example, such as changing the title tag and meta description, submitting an XML Sitemap, changing permalinks, verifying Google Webmaster Tools, and analyzing your content.
Content analysis is the most attractive feature of Yoast SEO. This feature will alert you if any of your content is not in accordance with the correct SEO rules.
As you can see in the image above, Yoast SEO provides analysis for the number of keywords, sentence length, and article length. So, the process of implementing SEO techniques in content can be completed more quickly.
2. Add Website in Google Search Console
Google Search Console (formerly known as Google Webmaster Tools) is a free platform for website owners to monitor how their website is performing in Google's organic realm.
This tool allows you to find out which domains provide links to your website (referring domains), website performance on mobile devices, to analyze of website pages with the highest traffic.
Here's an article on how to add a website to Google Search Console.
3. Create a Sitemap
A sitemap is a list of all the web pages that can be accessed by visitors and search engines. With a sitemap, your website will be easier to find by search engines and indexed faster.
In addition, the sitemap will also notify search engines when there is a structure change on the website.
There are two types of sitemaps, namely XML sitemaps, and HTML sitemaps. An XML sitemap is a sitemap that is accessed by search engines, while an HTML sitemap is one that is accessed by visitors.
4. Install Google Analytics
Apart from installing Google Search Console, you also need to install Google Analytics. Although they sound similar, these two tools actually have different functions.
The main function of Google Search Console is to check the website's performance in search results, while the main function of Google Analytics is to identify the behavior of website visitors.
With Google Analytics, you can find out the movement of visitors from the first page they visit to where they close your website. In addition, Google Analytics will also help you find out which pages are generating the most conversions and which are less than optimal.
5. Increase Website Speed
One of the things that most website visitors hate is the slow loading duration. Because long loading websites can irritate website visitors and end up looking for other websites that can provide faster information.
No matter how good the content you create, website visitors have no tolerance for slow loading. According to Google, 53 percent of internet users leave websites that take longer than 3 seconds to load.
In addition, 79 percent of people who are disappointed with the old loading website stated that they would not return to the website again. Increasing website speed is an SEO technique that must be done.
Here's a complete article on 5 Ways To Increase Your Website Speed To Rank Higher In Google
6. Riset Keyword
Not doing keyword research before creating content is a fatal mistake for website and blog owners. Keyword research will help you find keywords that are relevant to your readers.
There are five keyword research indicators that you need to pay attention to, namely search volume, keyword difficulty level, keyword suggestions, SERP, and search intent.
Search volume is the number of searches for a keyword in a certain period of time.
The keyword difficulty level shows the difficulty level of a keyword to be on the first page of search results.
Keyword suggestions are a collection of keywords related to the keywords you are researching.
SERP or Search Engine Result Page shows the pages that are in the top 10 rankings in the search results for the keywords you are researching.
Search intent is the intent the searcher wants for a keyword. One keyword can have more than one interpretation and Google prioritizes the interpretation according to the wishes of the searcher.
7. Targetkan Long Tail Keyword
There are two types of keywords based on the number of words in them, namely short tail keywords and long-tail keywords.
Short tail keywords are keywords that consist of one or two words such as "create a blog" and "create a website"
Long tail keywords are keywords that consist of three or more words such as " how to create a blog with WordPress " and " how to create a blog with Blogger ".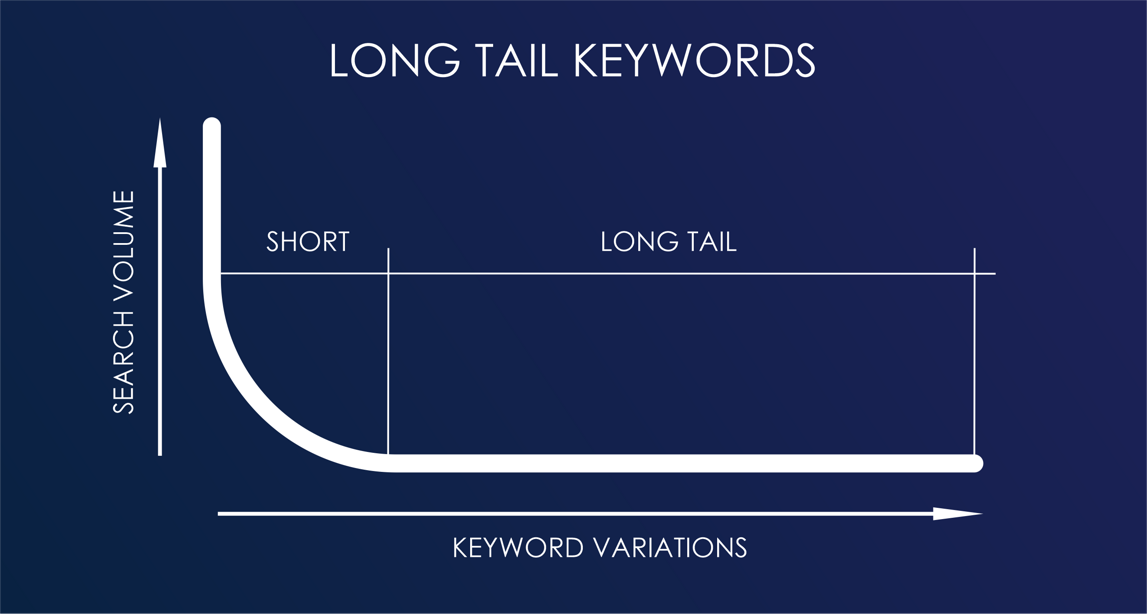 The search volume for long-tail keywords tends to be smaller than short-tail keywords. However, long-tail keywords are more effective at bringing in traffic. According to Neil Patel, long-tail keywords bring in 70 percent more traffic than short-tail keywords.
8. Create Complete and Interesting Content
The next SEO technique that is often overlooked by website owners is creating interesting content.
In fact, when someone searches for a keyword in a search engine, they want a complete answer to solve the problem they are facing.
Google also realized the needs of its users and began to prioritize complete content to occupy the top positions in search results.
You can add illustrations, infographics, or videos to complete the article. Visual media will help readers to understand the content of your article easily. If they are satisfied with your full content, it is not impossible that they will share the content on social media.
9. Image Optimization
Adding images to your website/blog content is a great way to keep visitors from getting bored. In addition, images can also help visitors to understand your content.
However, you also need to optimize the images you upload so that they don't slow down the loading of your website or blog. One way is to compress the image before uploading. So, the size of the image will not burden the website page.
One website that you can use to compress images is tinypng.com. Make sure the image size after compression is not more than 300 kb.
There are many ways to optimize images on your blog, from manual to automatic.
10. Maximize Internal Links
Internal links are links from one page to another on the same website.
Through internal links, search engines can understand the context and relationships between pages on a website. This is important because Google prioritizes websites whose content is interconnected and you can show the relationship between that content with internal links.
Internal links indirectly also help increase the time visitors spend on your website/blog. With internal links, visitors will more easily move to other pages on your website.
The more internal links visitors click, the more pages they visit on your website. So, the more time they spend on your website.
11. Guest Post
Guest posting is writing articles on other people's blogs/websites. In the article, you can put a link that points to your blog/website. This method is quite effective for getting quality backlinks.
In order to generate quality backlinks, you need to choose carefully the website that will publish your guest post.
Choose a website or blog whose quality is much better than yours, both in terms of traffic and domain rating. You can work with influencer bloggers or online media to do guest posts. SEO techniques with backlinks are the basic SEO strategies that can be relied on until now.
12. Post on Medium
Social media is not the only platform you can use to share website/blog content. Another platform worth taking advantage of is Medium. Medium is a community journalism platform with 60 million monthly readers.
Medium allows you to republish your website content on its platform and provide canonical links.
Canonical link serves to tell search engines that two identical content as one URL is the same so it will not damage the SEO reputation of your website.
In addition, you can also publish new content that is still related to your website on Medium and put a link to one of the contents on your blog. Even though it only contributes no-follow links, the second way is still worth trying to promote your blog or website.
13. Check for Error Links
Take a look at the articles that you have published one by one. Almost all of these articles most likely contain links, both internal links and external links, right?
Your initial intention to put these links is to make it easier for website visitors to move from one page to another or to access information sources from other websites.
Unfortunately, sometimes the links expire. Expired links will redirect visitors to inappropriate pages or even 404 error pages. This of course can make visitors upset.
Therefore, you need to do regular link checks so that visitors are always directed to the right page.
14. Meta Optimization Tags
The next SEO technique you need to do is optimize meta tags.
When you do a search on Google, you will see the search results as below:
After writing content consisting of thousands of words, only a small part of it will appear in search results. The search results only display meta tags consisting of the meta title and meta description as in the example above.
Meta title is the title of your article that appears in search results. The title of the article should not be too long because Google will cut it and adjust it according to its standards.
A meta description is a short text that summarizes your content in search results. This text is located just below the article title and URL. Meta descriptions usually consist of 110 to 120 characters.
Your challenge is to be able to make the title as attractive as possible without going over the limits set by Google. In addition, you must also be able to summarize the entire content of the article into 110 to 120 characters.
15. Update Old Content
Consistently creating new content for your website or blog is indeed a good step. However, that does not mean you can ignore the old content that you have published. It could be that the content is a source of traffic that is not less than the new content.
You can do this evaluation with the help of Google Search Console . Through Google Search Console, you can find out the performance of each website page in search results.
Find high-impression content with low CTR. This situation indicates the content has appeared in search results, but not many people have opened/clicked on the content. Usually, this is caused by a lack of keywords that match the intent of the searchers.
To check the performance per website page in Google Search Console, follow these steps:
Go to the Performance tab
Click Pages
Select the web page you want to see how it performs
Then click the "Queries" tab
After that, keywords will appear that generate impressions for that page.
Based on a report from Queries, you can complete the information in the article using the keywords that generated the impression for that page.
That way the possibility of the website page appearing in various keywords is greater. Your articles will be increasingly rich in information that matches what people are looking for in search engines.