Sharing the top 20 highest paying freelance jobs, which profession would you be suitable for?
Introduction to freelance work
What is a Freelancer? Freelance jobs you can do.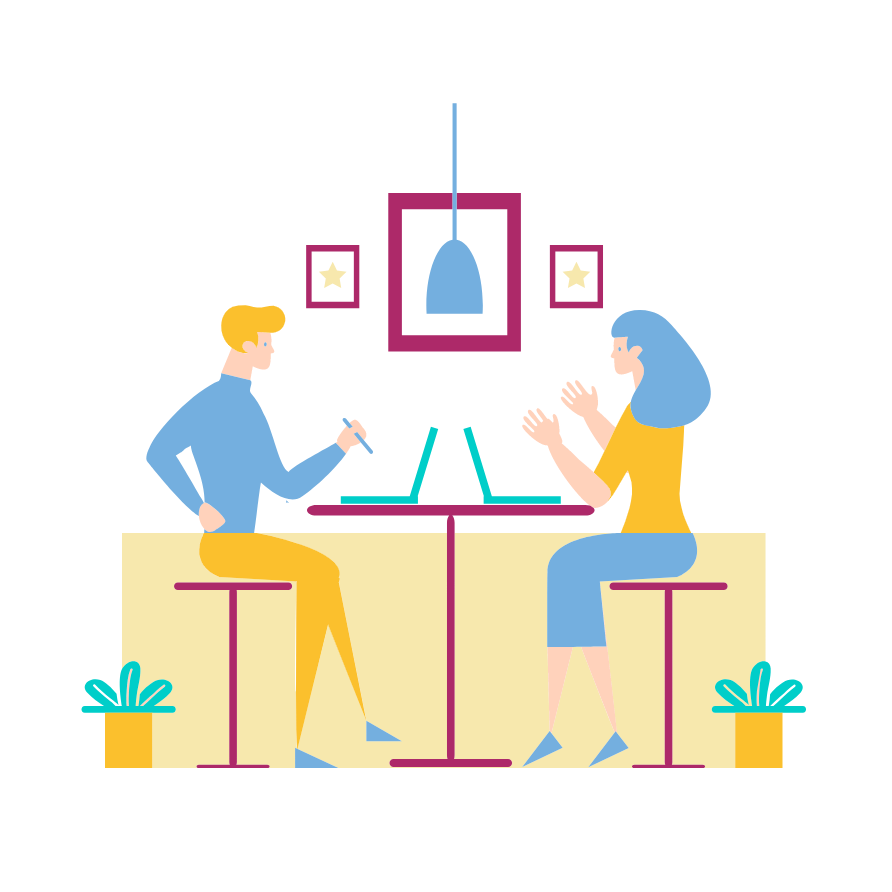 What is a Freelancer?
In a word, freelancers are people who work for themselves, not employees of any company. Although they contract to provide services to individuals, companies, or organizations, in the end, they are still the owners of their work and their time.
Unlike traditional employees, freelancers will arrange their own working time, monitor project progress, trade, and find customers by themselves. 
The path to becoming a freelancer
If you want to become a freelancer but don't know how to do it, the freelancer guide blog will give you the most specific information, including:
Find a freelance job niche that's right for you
A detailed guide to becoming a freelancer
How to find freelance jobs
Income of freelance work
And much more useful information…
Types of freelance jobs
Freelancing opportunities come from many different fields and industries. For example, in the field of marketing and communication, you can find work as a writer, editor, marketing specialist, or on social media. 
Some other areas that are also easy to find freelance jobs are: finance (for hire as a personal accountant or financial planner), education (tutor), and law (as a legal advisor). enterprise). 
In addition to the above fields, you can find freelance jobs in the field of technology, human resources, or recruitment …
---
20 best freelance jobs with high paying
Share the best freelance work you can do.
1. Copywriter
Copywriting is different from content marketers or writers. Freelance copywriters often write content for websites or write descriptions for products and services. Salary will depend on each person's experience and skills.
There are many levels of copywriter work, depending on creativity, type of work…
2. Do SEO
SEO is one of the most sought-after freelance jobs today because everyone wants their website to be displayed at the top of search results on Google or other search engines.
In order to attract customers to visit the website, you need to maintain a high number of views from which to make good money for the website. So this is a very hot job, in high demand, that you can learn to do.
3. Legal consultant
If you have experience working for large companies but don't want to be constrained by time, why not choose the freelance path? 
Freelance work in providing legal consulting services, especially related to corporate, criminal, property or marriage, and family law matters, is always highly sought after.
The income in this industry is very high, to create trust you should have a website to share specialized knowledge blogs. 
4. Cybersecurity expert
Currently, there are many hackers plotting to steal data of large businesses or startups, so cybersecurity skills are more important than ever. 
If you can increase the level of internet security for an individual or organization, it will make a lot of money.
5. Voice actor
If you have a beautiful or unique voice, find a freelance voiceover job for commercials, TV shows, radio productions, collaborations with tech companies, or small companies. With the trend of developing promotional and viral videos, freelance dubbing jobs are increasingly popular.
6. Teachers teach online
Do you love teaching but don't want to have to get up early and rush to school? Then the job of an after-school tutor or online teaching is definitely for you. Of course, you need to be fully equipped with the required knowledge and professional qualifications in your teaching field.
The demand for online teaching is increasing day by day to help students supplement knowledge in class or sometimes completely replace learning at school. 
The subjects that need to find online tutors regularly are English, natural sciences, and literature. You can teach via online platforms such as Skype, Zoom, or pre-recorded videos (in the form of online courses).
7. Translation
The translation is considered one of the most popular freelance jobs today. As long as you know a foreign language fluently, you can work. Translation has many genres from translating documents, translating articles for websites, translating books, interpreting…
This profession is never out of hot because the demand is always there. The easiest way to get started with translation is to translate articles for websites. If you are good at both SEO skills, rewrite it in a way that you understand, and you will be paid more. 
8. Game Programming
Do you like video games? If you design the game yourself and experience it yourself, it would be great, right? But before providing game programming services, you should remember to do and learn to have a lot of experience to easily find a job. 
9. Programming and software development
Programming, especially developing software and mobile apps is the highest paying freelancer because it takes a lot of practice to master this skill and there isn't much programming right now. professional programmer. Therefore, the demand for recruiting good programmers is huge.
To find freelance work in this field, you need to gradually build credibility and a personal brand. If you are fluent in some programming languages ​​like IOS or WebGL, you can completely earn 150 USD/hour.
10. Social media manager
Social media is now becoming the most important communication channel, so it's not surprising that the demand for social media managers is increasing day by day. Many businesses are willing to pay someone who has the ability to develop Instagram channels or other social networking sites. If you are confident that you are an expert in this field, you can earn a high income.
Outside of Vietnam, it is easy to find or post this job yourself on platforms like Fiver, and Upwork. With Fiver, you can set a price of about $165/for 30 Instagram/Facebook posts. As for the more pro, working with Upwork can earn double or triple. Working on the above international platforms, you need to know English. 
11. Writing articles and blogs
You have the ability to write and want to be self-employed, so why not provide writing services or build your own personal blog? There are many freelance job sites that are hiring for that position.
To make money from a blog, you need to invest some time in the initial construction and accept no immediate income like other jobs. But once your blog is known by many people, you can have a high passive income. This is how Nhung did to have a stable income of over 50 million/month for each blog. 
When you are good at blogging and creating your own blog, you can also refer to flipping blogging, the income from this profession is also very high. 
12. Graphic Designer
Graphic design ranked second on UpWork's list of most in-demand skills. You can do web design, infographics, or print design. To find a job in this field, a portfolio is an indispensable requirement.
If you like logo design, sketching, or graphics, look for freelance work related to illustration. Once you've built up a lot of experience, you can even charge up to $100 per piece.
Social media marketing is an important activity for brands and business strategies. 
Currently, most businesses from small coffee shops to large brands use social networks as a channel to promote their products and brands, thus creating fertile land for freelancers. Even social media marketing has thrived as a niche.

Social networking jobs you can do: run Facebook ads, TikTok, write marketing content for Facebook, build and develop Facebook groups…
14. Marketing Advisors
For this job, you can do a variety of tasks from email marketing, social media management, or content writing. Once you have made a name for yourself, new opportunities and projects will constantly find you. To promote your personal brand well, you should design a well-rounded portfolio to present your experience and work results.
15. Administrative assistants and virtual assistants
Many companies agree to hire freelance administrative assistants, not having to come to the headquarters but just asking to complete the task. However, to perform well at home administrative work, you should have previous experience working directly in the office.
A virtual assistant (virtual assistant) is a very hot job on fiver and Upwork sites, if you have English you can do this job. Now in Vietnam, the trend is that many of you are freelance, making money online for many projects, so the need to hire virtual assistants is also there. 
16. Customer care staff
Although freelance client care jobs are not as easy to find as the positions mentioned above, the number of opportunities is also quite large. For example, you can become an Apple technical support employee and work from home. Good communication skills are a must to achieve success in this profession.
17. Website Building
If you are proficient in web building and programming skills, then this job is right for you. Many people want to have their own website but they don't know how to do it and are also short on time, so this is an opportunity for you to show your expertise and earn a high income.
You can learn how to make a website with WordPress through free video lessons, on the trial lesson, and click on page 4.5 to see the sample lesson, then go to school. Note that if you do not use Coc Coc, you will not be able to watch the video. 
18. Photography/video editing
The better your photography or video editing skills, the more money will be poured into your account. The top experts in this are all very well-paid.
In the last few years, platforms like Facebook, YouTube, Tiktok, and Instagram have created countless photography and video editing jobs. Therefore, the requirements for those freelance jobs are also getting harder and harder.
In addition, you can take photos, record videos, and sell them through online photo stores like  Shutterstock …. Initially, it may take you a lot of time to create a product, but gradually you will have a steady and abundant passive income.
19. Data entry staff
This freelance job does not require creativity or attractive looks, just you need to be patient and have the ability to type quickly and accurately. The customer will provide the information and it is your job to convert that information into the document they require. Data entry is an effective solution to gain experience for other administrative tasks.
20. Freelance work in the field of fitness & health
In every local gym, there are always many freelance jobs in the field of fitness & health. If you open a gym or have a spacious practice space at home, you can work as a coach without having to go anywhere.
You can also call or video call your customers online, research, and apply their knowledge of nutrition to help them improve their quality of life by losing weight and choosing healthy and nutritious foods. nutrition for the treatment or prevention of disease.
Other Freelance Jobs
Nhung has written a super detailed article about the freelance profession you should read more to know better before starting to work. You will know what experience is required to be a freelancer, where to study, how to get clients, and what opportunities to develop in the future. 
Which freelance jobs have the highest income?
Here are some freelance jobs that have a pretty high hourly rate or payment. You can earn hundreds of dollars per hour or more than 100,000 dollars a year if you reach the professional level.
Programmers write software
Direct response copywriting: copywriters are responsible for communicating directly with customers and persuading them to buy products.
Digital marketing consultant
SEO Specialist
Advertising management.
Write creative content.
Sales staff & prospecting for potential customers.
The above is the best freelance jobs that you can choose when pursuing the freelance career path. Do thorough research to get a high-paying job and gain valuable experience in your career.
Which freelance job should a beginner choose?
When you've just stepped into the freelance path, you don't have to choose to learn a skill that is too difficult but also doesn't choose a job with limited pay and opportunities in the long run.
Digital marketing is one of the best freelance jobs for beginners because you can learn basic skills quickly, earn a high income, and also access valuable skills that you will later enjoy. This can be done in-depth, such as through social media (social media), SEO (search engine optimization), online advertising, and writing.
What is the easiest freelance job?
Of all the careers, content writer, online marketer, and social media manager are the easiest to start.
The content writer profession also has many levels of work, requiring skills related to each level of content making. You can refer to how to learn to write content to know what to learn to be a freelancer content writer. 
Doing online marketing includes many parts such as writing content, SEO, building content and developing social network channels, making online marketing strategies…
The social media manager is the job of creating content, making images and videos for social media channels, posting on behalf of customers to continue to increase followers, and views, and keeping the channel hot. You can easily find these jobs on Fiverr, Upwork, or groups on Facebook. 
Which freelance jobs are best suited to work from home?
Most freelance jobs in all of the above fields allow you to work from home, including content writers, digital marketing, website builder, software development jobs, SEO specialists, etc.
Except for taking photos that require direct interaction in some basic steps, the rest you can do and get paid right at home! Similarly, you can become a fitness trainer. 
Learn the skills and knowledge needed to be a Freelancer
Kiemtienonlinehub course not only helps you create your own business project, and make money online but is also good when you want to be a freelancer. 
You will learn all the practical knowledge and skills needed to make money online as a freelancer such as: 
How to create a professional website
SEO optimized content to get to the top of Google. 
How to write website content, newsletter content, and social networks.
Building and developing 5 social networks. 
How to do multi-channel marketing.
How to edit, and create videos, and illustrations.